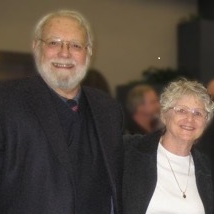 Dr. Duane C. and Judith Rossiter Hellam '61/'68 Nursing Scholarship
Judith Rossiter Hellam established the Dr. Duane C. and Judith Rossiter Hellam '61/'68 Nursing Scholarship to recognize a current full-time nursing student at The College at Brockport who demonstrates financial need.
Mrs. Hellam retired from the classroom in 1983 after 23 years, and she began a second career as a medical surgical nurse in Springfield, MO. Her nursing career also lasted 23 years.
She was married to the late Duane C. Hellam, MD, who received his medical degree from Washington University in St. Louis. Dr. Hellam passed away in 2015.
In Springfield, Mrs. Hellam served on the Board of Directors for the Springfield Symphony, and the couple established The Hellam Young Artists' Competition for young musicians attending major music schools and conservatories. The Hellam Competition is now in its 24th year.
To qualify for the Hellam Nursing Scholarship, students must be accepted into the Department of Nursing's early admission program for the first semester of their freshman year and excel in the first semester APS course taught by a Department of Nursing faculty member. Recipients must also demonstrate strong grades at the completion of their second semester and a need for financial assistance as determined by the Free Application for Federal Student Aid (FAFSA). Candidates who are members of a traditionally underrepresented class will receive first preference
The scholarship will be credited during the recipient's sophomore year. The scholarship may be renewed for up to two additional years if the student maintains sufficient academic progress and continues toward achieving their bachelor of nursing degree.