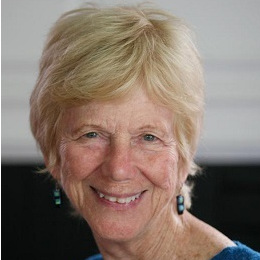 Elaine K. Miller Women and Gender Studies
Dr. Elaine K. Miller, an associate professor emerita in Foreign Languages and Cultures, established the scholarship in her name to recognize an outstanding student in the Department of Women and Gender Studies or in the Department of Modern Languages and Cultures at The College at Brockport. Dr. Miller twice has served as interim director of the Women and Gender Studies program.
Dr. Miller directed Brockport's Peace Corps/College Degree program for six years beginning in 1973, training math and science majors for service in Latin America and Zaire. A talented teacher of Spanish, she was a faculty member in the Department of Foreign Languages and Cultures for 35 years, serving as chair or acting chair for 10 of those years. She served as dean of the Alternate College, precursor to Delta College, for seven years before joining the faculty of the Department of Women and Gender Studies.
Her scholarship features a feminist analysis of editorial cartooning with an emphasis on women in politics. This research has resulted in three videos—Running Mate: Gender and Politics in Editorial Cartoons, Drawing Conclusions: Editorial Cartoonists Consider Hilary Rodham Clinton, and The Editorial Cartoons of Etta Hulme—that comment on the evolving role of women in politics. She continues to do presentations on political cartoons as social critique. She also plays percussion in the Eastman Community Music School New Horizons Band.
She has written on Mexican folk narratives, biked a route of the Underground Railroad, completed a cross-country bike trip for women over 50, and spoken at national organizations. She is listed in The Book of Lives and Legacies in the National Women's Hall of Fame.
To be eligible for the Elaine K. Miller Scholarship, students must have a major or minor in Women and Gender Studies, have at least sophomore status when applying, have completed at least 15 credits at Brockport (six of which must be in Women and Gender Studies) and have a GPA of at least 3.0. Applicants must also demonstrate a commitment to the discipline through interaction with college or community agencies or programs related to careers in women and gender studies.