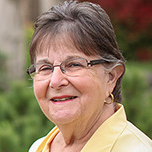 Elaine Leshnower Scholarship in Social Equality
Elaine Leshnower '61/'98, longtime volunteer for The College at Brockport, has enjoyed careers in teaching, business, and politics.
Having come to the College from New York City, she served as copy editor and managing editor of The Stylus and was on the College Union Board of Managers. She completed her student teaching at the campus school, which was located in Hartwell Hall and Spencerport.
After graduation, she began teaching on Long Island where she taught grades one through five during her education career. While teaching, she volunteered for the late Robert F. Kennedy's U. S. Senate campaign. In 1969, she left teaching to become administrative director of the N.Y.S. New Democratic Coalition. She later worked for New York City Off-Track Betting and Consolidated Edison. Her last position in New York City was as an on-loan manager to the New York City Mayor's Office of Operations.
A position with Xerox Corporation brought her back to upstate in 1981 and later to The Rochester Group as director of human resources. After her return to the area, Ms. Leshnower became active with the Brockport Alumni Association, where she has served as president, secretary, treasurer, and twice as vice president. She initiated the campaign for the Class of 1961 to restore one of the rooms in Alumni House in honor of Estelle Bassett, advisor to the class. Ms. Leshnower was inducted into the Brockport Alumni Hall of Heritage. In 1998, she received her master's degree in education.
In addition to her professional careers, Ms. Leshnower has volunteered throughout her adult life, primarily in politics as an aide, campaign coordinator, campaign consultant, and campaign manager for local, state, and national officeholders, including the late U. S. Representative Louise Slaughter and former Brighton Town Supervisor Sandra Frankel. She also volunteers with the Delta Kappa Gamma Society International as well as with the Brockport Alumni Association. In 2014, Governor Cuomo appointed her to serve on the College Council.
She has noted that she received great mentoring at Brockport from Jeanette D'Agostino Banker '53, the late Dr. Harold Rakov, the late Dr. Harry Emmerson '51, and the late Raye H. Conrad. Her scholarship in social equality honors the inspiration and support she received from her mentors.
To qualify for the scholarship, students must have earned junior or senior status with a minimum of 54 credits, demonstrate academic excellence with a minimum of a 3.0 GPA, and have declared a major program of study. Majors in political science will be strongly considered. Applicants also must demonstrate a concern for social equality through community service, social justice, tolerance, diversity, and inclusiveness through an essay of at least 500 words outlining social equality activities at Brockport.